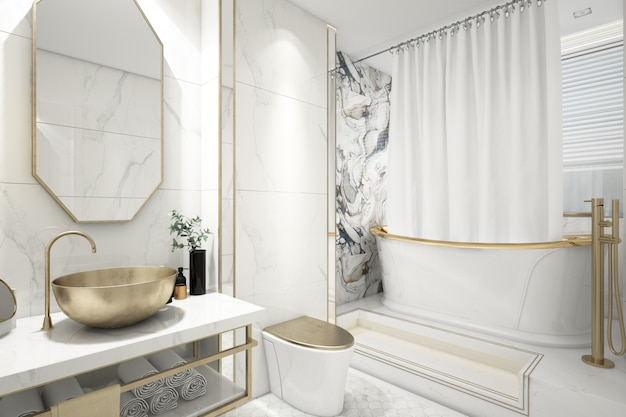 Quartz bathroom countertops are always in trend. White quartz countertops have particularly become very popular thanks to the increasing demand for minimalist, chic style and sleek and modern home decoration. The all-white bathroom design gives the space an airy, bright, light, and elegant look. Combined with the low-maintenance, durable nature of quartz, you cannot go wrong with white quartz countertops in your bathroom. This blog will introduce the reasons why white quartz bathroom countertops are among the best. Read on to check them!
Advantages of Installing White Quartz Bathroom Countertops
When you install durable and attractive white countertops in your bathroom, you will enjoy myriad benefits. The top advantages include the following:
Durability
Bathroom countertops need to be durable because they will be subject to daily use. This is where reasonably priced white quartz countertops become an ideal choice, thanks to their high durability. Quartz has the same durability as granite and concrete but is less likely to crack or chip easily. Also, it is resistant to scratches and wear.
Low Maintenance
Quartz is easy to maintain. It has a non-porous surface, which means it doesn't need any sealing to resist heat or stains. Cleaning and maintaining your white quartz bathroom countertops will typically involve using a scrub.
Hygiene
When installing white quartz bathroom countertops, you won't have to worry about odor-causing agents in your bathroom, e.g., bacteria, mold, etc. Since quartz has a non-porous surface, it prevents the growth of bacteria and hence, helps keep the bathroom in perfect hygienic condition.
Aesthetics
Minimalism and simplicity are the driving factors for that clean bathroom feel these days. It is a demand that white quartz bathroom countertops can easily satisfy. White quartz countertops offer a natural look that is similar to marble, but you can also tailor it to fit any bathroom theme.
Resistant to Heat and Moisture
White quartz countertops are an excellent choice for bathrooms because of their high resistance to heat and moisture. Quartz does not absorb water and other liquids, hence ensuring that no stains appear on the surface.
Eco-friendly
Since white quartz bathroom countertops are engineered via recycled materials and material stone, it means these countertops are a great environmentally friendly choice that minimizes waste generation. Additionally, quartz stone is a long-lasting and durable material that requires minimal maintenance, which can reduce the need for replacement and further reduce its environmental impact.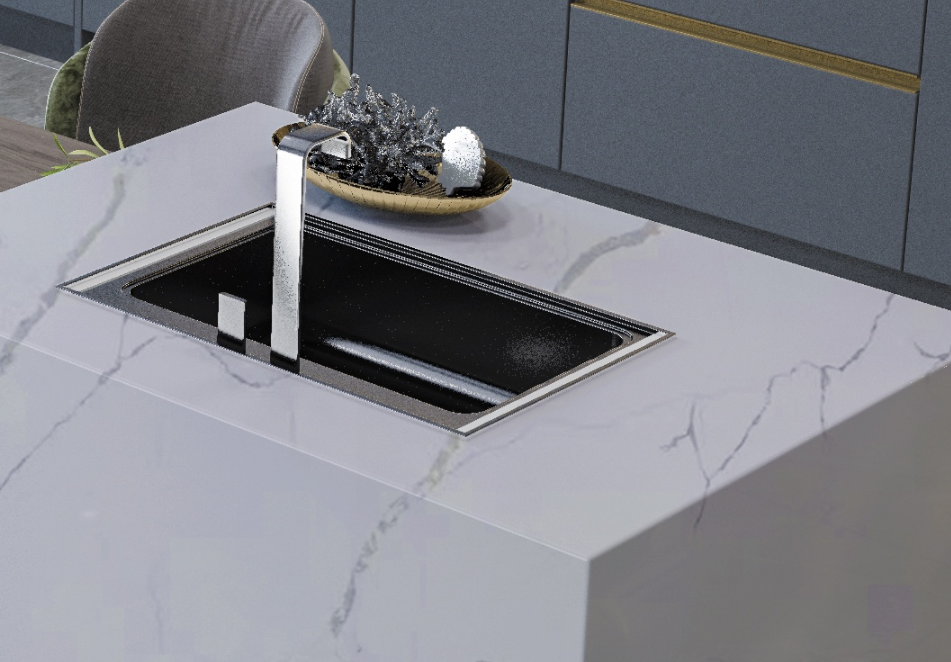 Applications of White Quartz Bathroom Countertops
Countertops aren't the only way to make a difference in your bathroom using white quartz. You can also incorporate white quartz bathroom countertops in other areas. Here are their top applications:
Washing Basin/Vanity
Apart from countertops, one of the most prominent places to use white quartz in the bathroom is the washing basin/vanity. The worktops and sinks in your bathroom form a significant component of the overall appearance of the space. White quartz countertops are a fantastic choice for this purpose thanks to their clean, unique appearance and easy maintenance.
Background Wall
Many bathrooms have tiled background walls that typically use grouting. Over time, the grouting can become dirty and damage the bathroom's appeal. With white quartz bathroom countertops, this problem is eliminated. White quartz is an excellent choice for bathroom background walls thanks to its luxurious appearance and long-life durability.
Flooring
Floors are another way to incorporate white quartz in a bathroom. Quartz can easily withstand daily foot traffic, and it doesn't require periodic sealing. Not to mention it is also low maintenance. These characteristics make it a perfect choice for bathroom flooring.
For the Best Results, Choose BITTO Calacatta Quartz
If you are thinking about installing white quartz bathroom countertops, it is recommended that you consider choosing calacatta quartz because it offers unique advantages. This material looks similar to calacatta marble but has a bright, clean white appearance with dramatic gold and grey veining, which looks great in bathrooms. For buying such a product, you can rely on professional quartz supplier BITTO.
BITTO has been in the surface manufacturing business for more than two decades. We offer a wide range of products to help customers achieve their desired look in interior design. Our ET Calacatta Gold Quartz Slab BQ2204 is recommended because of the following traits:
Natural white quartz with a grey veining appearance is suitable for modern interior style and elegance
Antibacterial protection to ensure maximum hygiene in the space
Non-porous surface to resist bacterial growth and stains and promote easy cleaning and maintenance
More durable than marble and also has great heat and corrosion resistance
The minimalistic look of the product makes it suitable for quartz bathroom vanity, flooring, wash basin, background wall, countertop, and more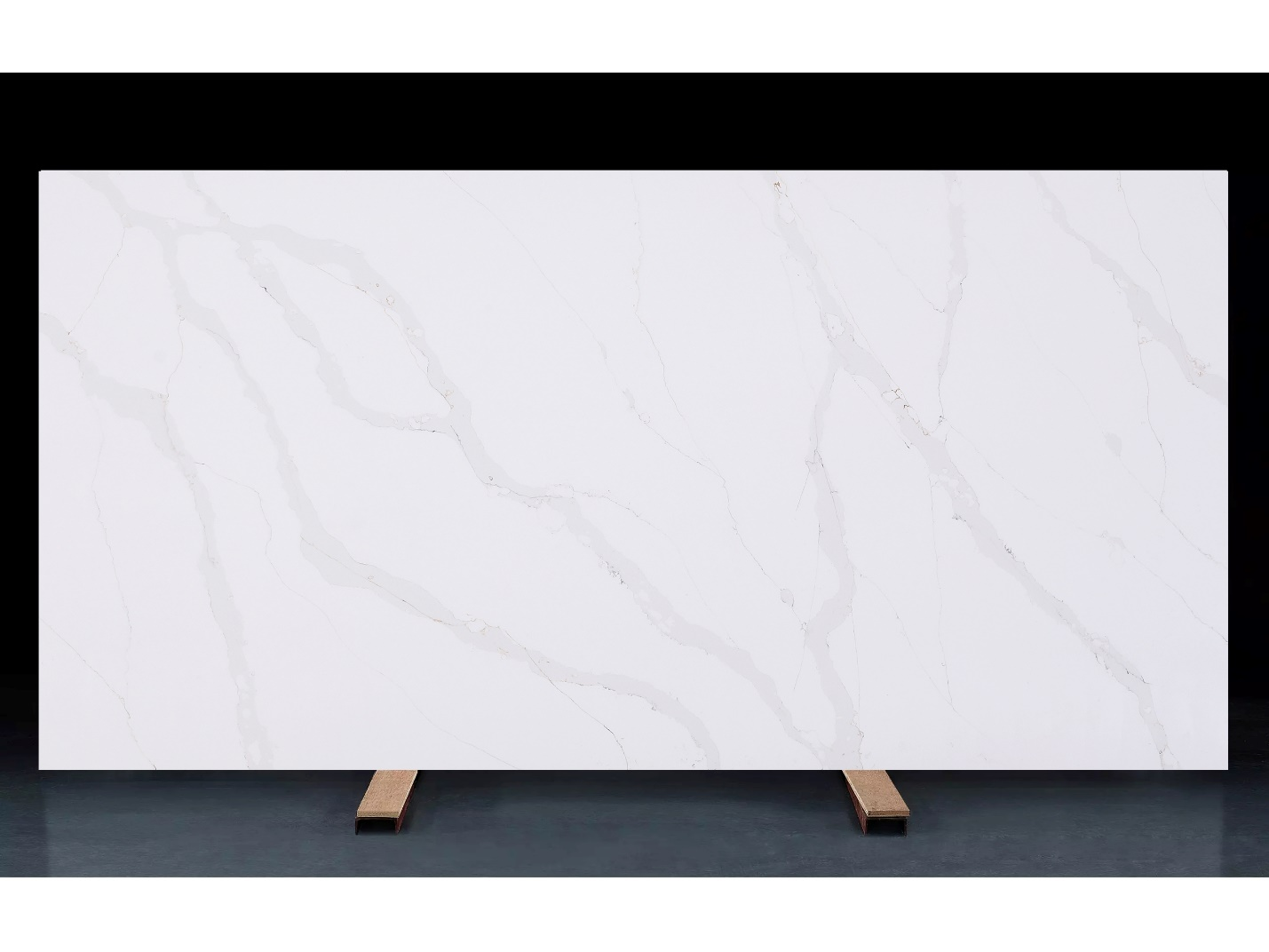 Conclusion
Overall, white quartz bathroom countertops are the most dominating option in the market for achieving a modern, minimalistic style in bathrooms, kitchens, and more. The material has several key advantages as compared to other options, and it is reasonably priced. For the best aesthetics and value, choosing calacatta gold quartz is recommended. BITTO offers this product and many others.
Founded in 2001, BITTO has more than 20 years of experience as a fabricator of finely crafted flooring, vanities, countertops, etc., for both residential and commercial projects. Our product line includes many types of quartz stones and solid surfaces. Our commitment to quality and using innovative approaches to manufacture our products have made us one of the top surface suppliers in the industry. You can browse these products or learn more about BITTO.