Glossy and matte quartz countertops are popular decorations for kitchens, bathrooms, and other spaces. Quartz stone slabs, especially glossy and matte quartz countertops, are a worthy investment attracting more people to wholesale them. The decision on the quartz countertop material largely depends on the customer's personal preference and the style of their space. 

Nowadays, many people usually prefer glossy surfaces in traditional spaces and matte quartz in modern places. The ultimate decision ultimately depends on the target user and their preferences. However, people want to know the differences between these two. Therefore, this blog is a short guide on choosing suitable quartz stone slabs from a reliable manufacturer. Read ahead to go through a comparison between glossy and matte quartz countertops.
Differences between Glossy and Matte Quartz Countertops
The fundamental difference between a matte & a glossy quartz countertop lies in the finishing and the ability to reflect light. Both are durable options and require little maintenance, so follow the tips to identify glossy and matte quartz countertops. 
Surface Appearance
Different surfaces behave differently to dirt, filth, and scratches. Glossy surfaces highlight stains and grime since they are good at reflecting light. On the contrary, matte quartz surfaces do not reveal scratches and smudges as much. Matte surfaces are advisable for a messy kitchen where countertop spills are common. Therefore, glossy surfaces are often a priority due to their elegant and polished look, while matte quartz countertops are chosen when people prefer easy-to-wipe and clean countertops. 
Suitable Spaces
Matte quartz countertops are advisable for naturally-lit kitchen spaces. Since such spaces already hold sufficient light, a bright polished surface will create a glare. However, a shiny, colorful, prominent glossy quartz surface is a prime choice for small kitchen spaces. 
Small spaces devoid of natural light appear dull, so a glossy surface gives the kitchen a brilliant and sparkling look, making them ideal choices for small spaces to expand the small kitchen in the sense of viewing. And matte quartz countertops are suitable for large kitchen spaces to create an elegant atmosphere.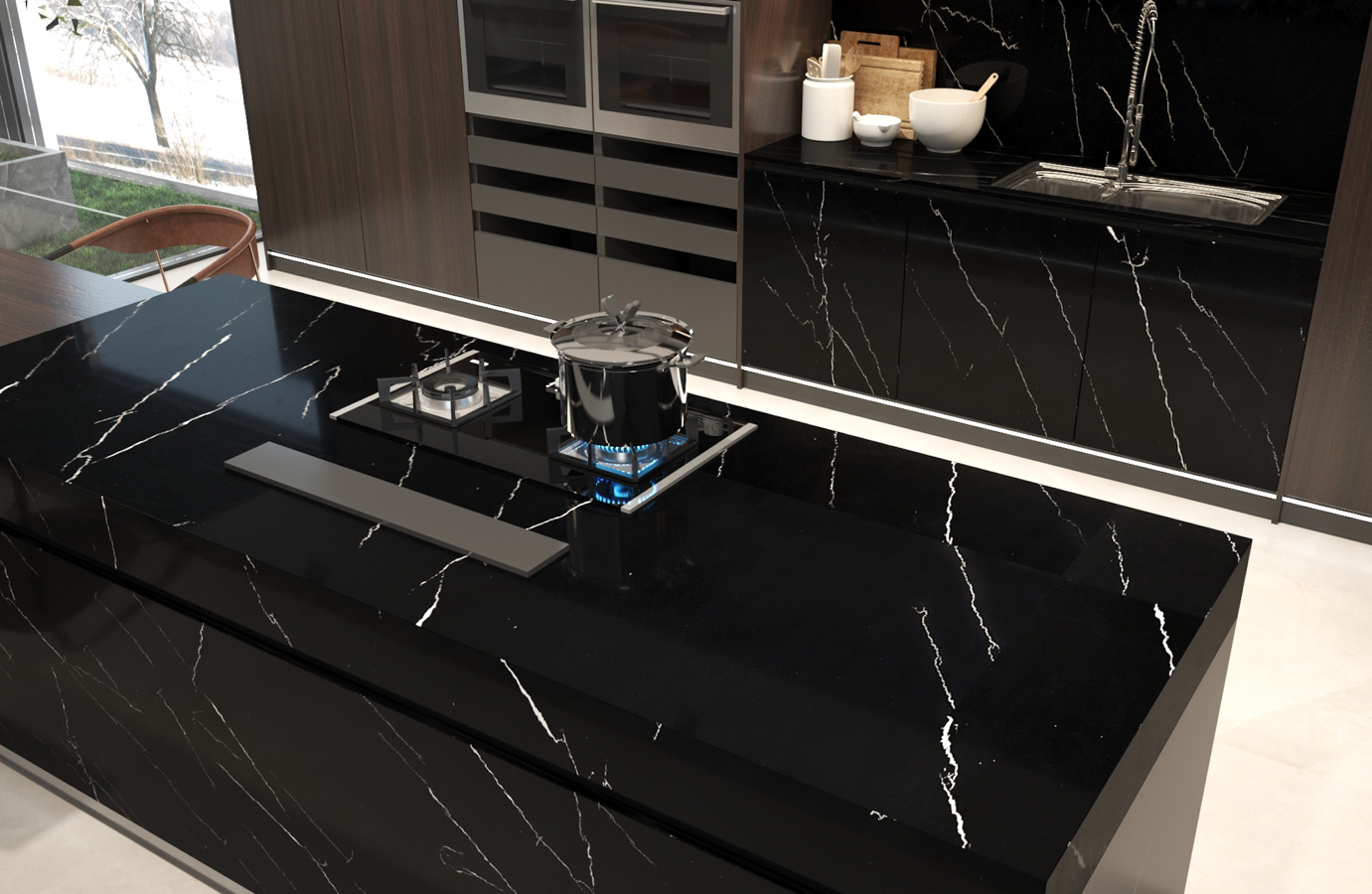 Stain Resistance
The ability to resist stains and smudges is considered before choosing a material for a kitchen countertop. A glossy quartz countertop tends to be more stain-resistant than a matte because it keeps stains on its surface. So it is easy to wipe off the dirt from a glossy finish.
Though matte quartz countertops trap dirt and behave stubbornly, they can hide messes due to their non-reflective nature. And buying matte quartz countertops from a reliable buyer guarantees a stain-resistance experience. 
Cost
Cost is the ultimate factor the consumer considers when choosing a particular material for kitchen countertops. Matte finishes demand further processing to make the surface less reflective and dull. However, glossy quartz surfaces look more economical than matte surfaces because no additional treatment is required. 
Glossy and Matte Quartz Countertops: What to Choose? 
Glossy and matte quartz countertops make beautiful additions to the kitchen and other spaces. They are easy to maintain and clean with little care, and you should choose them according to your specific needs. For instance, if you have a large space and want to do less maintenance in the kitchen, then matte countertops should be your ideal pick. In contrast, if you are fond of shining surfaces or have small spaces, then glossy countertops can fulfill your desires. But the fundamental point is to select a reliable quartz stone slab supplier.
Buy Matte Quartz Countertops from Bitto
Are you looking for a professional quartz stone slab supplier for your next countertop project? Bitto specializes in the manufacturing, processing, and selling quartz stone slabs. We focus on providing innovative and high-quality artificial quartz products to our customers worldwide. Our products include Carrara quartz stones, Calacatta gold quartz countertops, and types of glossy and matte quartz countertops.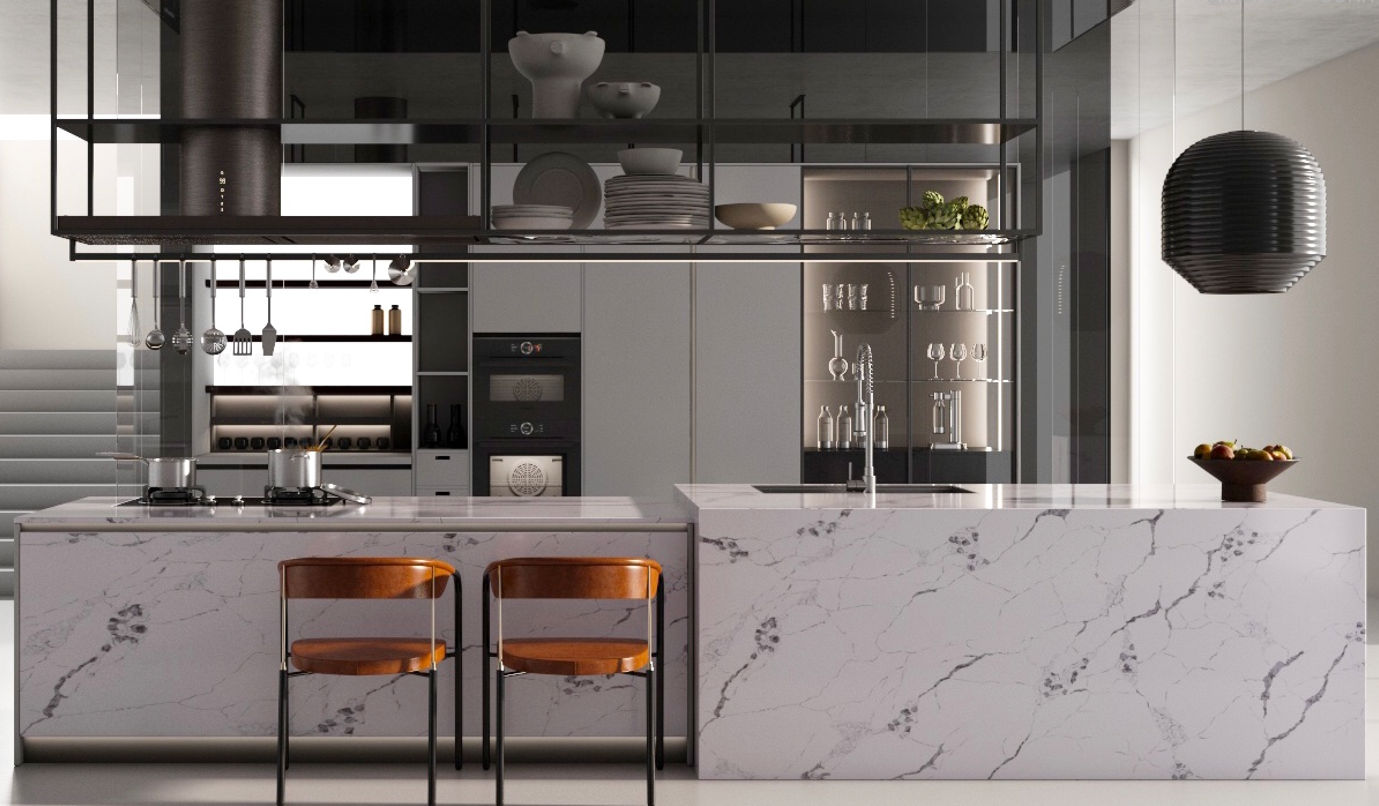 And the following are the exclusive advantages of our quartz stone slabs, especially for glossy and matte quartz countertops, that make our products stand out: 
Continuous arrangement of patterns, colors, designs, and lines.
Alluring appearance with elegant finishing.   
Stain-resistant and environment-friendly material. 
Durable and even surface.
Qualified certifications with professional ability and service
Our exceptional R&D power ensure the high quality of products with innovation.
If you're ready to invest in high-end wholesale glossy or matte quartz countertops, don't delay. Contact us now to explore our product range and get your quote!